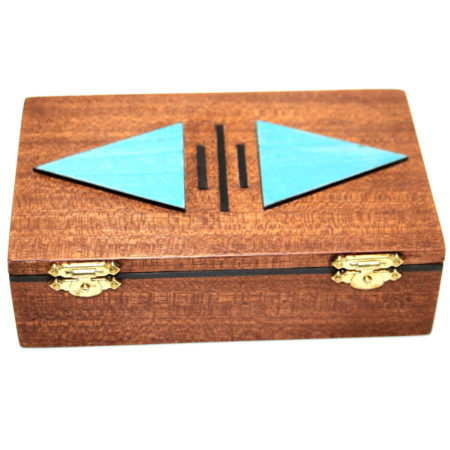 Aside from the usual beautiful craftsmanship that Alan brings to all of his works of art, this effect intrigues me because of the clever double prediction that Alan uses. You start by placing a prediction box in front of a spectator and showing four stacks of Egyptian-themed puzzles and ask the spectator to select one. There is a basic force involved but because the piles are in random order, they complete the puzzle after the selection providing a useful time delay, and the fact that next phase is so strong it goes by unnoticed.
Once the spectator has selected their pile (which can be different for repeat performances) they are then asked to complete the puzzle from the pieces. There are only four pieces so this doesn't take very long. You also go ahead and piece together the other three stacks that were not chosen, just to show they were different, and add some extra interest to the effect. You then ask the spectator to select any piece from their chosen puzzle. There is no force and they can freely choose any piece and change their minds if they want to. When they are done, the Magician just tips out the draw from the prediction box and inside the draw is the same puzzle, with the exact same piece missing too. This is a very clean piece of magic to end this double prediction.
If you missed this item when it first came out get it now time to get it now!
Click here for more information.