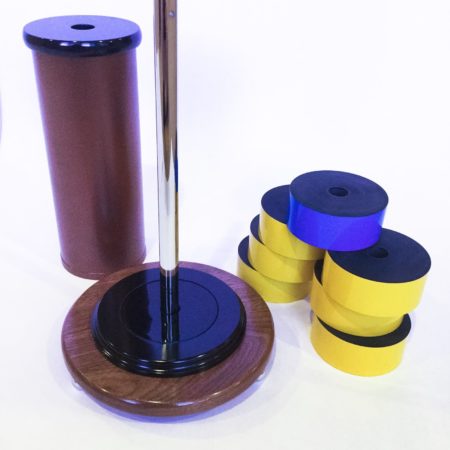 This is one amazing version of a classic in magic. I always liked this trick but never indulged myself to buy the parlor size due to drawbacks to the method, so settled with the Voit miniature model. All my concerns about the original effect have been addressed by Bill Schmeelk.
The base is gorgeous in natural walnut and deceptive in size. The cover is the same height as the stack of 7 checkers and looks beautiful in that hammered copper powder finish Finally, the checkers can be demonstrated to be separate at all times during the effect…yes, even with the blue in the middle (position can be varied if one likes but the middle is the classic one)
Operation of the effect is, to me, semi-automatic with no fumbling around the base, stack, or pole. All this comes neatly storable in the accompanying case. Only 13 sold to the public. Expensive but a lot of designing and work that is not so apparent by the pictures is in this apparatus.
Click here for more information.