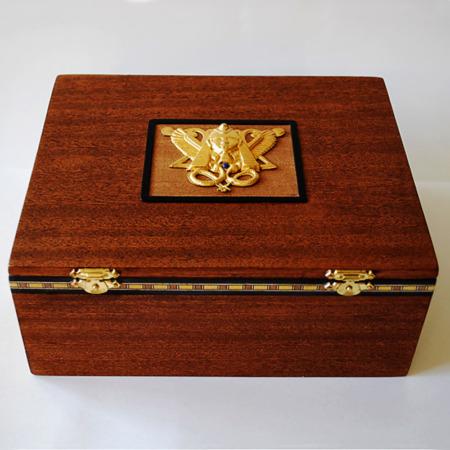 Beautiful Warner Magic

Alan has yet to lose his "magic touch" to handcrafted magic. Here we have another limited edition boxed set from him. This is a mechanically improved version of his Chinese themed Spirit Cabinet from his early years, but with an Egyptian story, a popular one with Alan and collectors of his magic.

The cabinet is wider than the Spirit Cabinet, but operation is so much smoother and consistently reliable, irregardless of temperature or humidity – an issue I found with the Spirit Cabinet. Here you have a choice of either King Tut (first 5 sets) or Queen Tiye (second 5 sets for sale) to appear in the cabinet versus the bottled spirit in the old version.

Again, I am so pleased for another addition to my Warner collection,which remains intact since I started back in late 2001. I realize the economy is messed up, yet, in contrast to other "collectibles", have seen dimished returns on Warner items when they come up for auction lately. This surprises me as these are extremely high quality magic, unequaled by many out there, and in due time the value of Alan's work will speak for itself as it did some time ago.
Click here for more information.