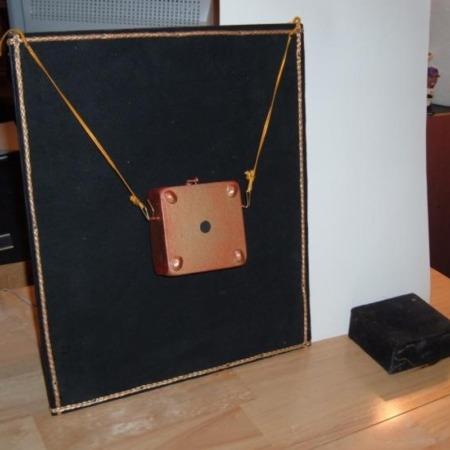 I'll Bet You Haven't Seen This One!

Ed acquired this from the Bert Adams Estate (Boston) sometime in the 1940's to early 1950's. It has the look and feel of a much earlier piece (obviously not a Magic Shop item), but I've not found it described in any of the standard texts I've consulted.
Effect: A large velvet covered board (approximately 17 1/2 inches by 14 1/2 inches) with an easel back is sitting on a plain ungimmicked table. Two golden cords are anchored at the top of the two upper corners. A hook is affixed at the other end of each cord.
An orange silk handkerchief is freely displayed and spread out covering the front of the velvet board.
A wooden box (5 inches square) with a black spot in the center of the lid is opened and shown empty. This empty box is now suspended from the golden cords so it is hanging in the center of the silk-covered board.
WHAT HAPPENS NEXT IS ERIE TO WATCH…
Very slowly the orange silk begins to melt into the wooden box! The hankerchief just keeps getting smaller and smaller. The Magician is not touching the handkerchief nor any of the apparatus while this event is taking place.
After the handkerchief has completely disappeared from sight, the Magician removes the closed box from the golden cords and brings it directly to the audience. The first point noted is that the black spot on the lid is not a hole, but simply a painted black circle. Next, the top, bottom and sides of the box are observed to be 100% solid and the hasp is securely closed (all of this is true!).
When the spectator opens the box, there's the orange silk handkerchief residing within AND a previously vanished item can be found within its folds.
Click here for more information.