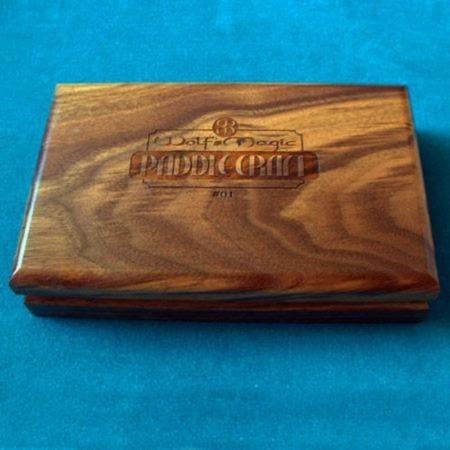 Simply Gorgeous Paddle Set!!

I just received my two Wolf Paddles sets in the mail and they are proudly tucked away in my magic collection, next to a Gerlitz piece. First, for those who know of my magic collection, you know I am rather used to seeing great magic pieces, but Chance's Paddle set simply blew me away.

It's the most beautiful set of paddles I have ever seen. The case housing the six paddles is gorgeous. The walnut graining is striking and the laser engraving of the Wolf Paddle Craft logo artistically done. I like the way Chance arranged the paddles on the case to keep the case down to a "mini" size. As you open the case you see three paddles on the inside of the lid and three on the bottom case. First to be opened was No.1 (thanks, Chance, for the assignment) with an all Cocobolo wood set. The craftmanship is simply superb, so much better than I had expected based on the sneak photo on Chance's site. Then came No.2, the mixed wood set. Again, the choice of woods and the craftsmanship absolutely amazing; loved the Australian Lace paddles, in particular.

Overall, I am one happy guy today. If Chance had asked for twice his asking price I would have hesitated (for a short while), but after seeing first hand the actual product, I would have instantly agreed to whatever price he asked. Hell, I would have handed him a blank signed check 😉

Later, I viewed the accompanying DVD (nothing better than Chance personally showing you the moves than trying to decipher written instructions) and the production is first class. I was so entertained just watching Chance demo the paddles at the beginning before going into the explanations. Very nice moves and innovations with such a classic prop, not to mention, again, Chance's skills with woodworking. The big surprise came when the credits finished the video..I was quite flattered..thanks, Chance. I am glad you did release the sets and that I bought one of each. What's next in the Wolf mini-magic line?
Click here for more information.