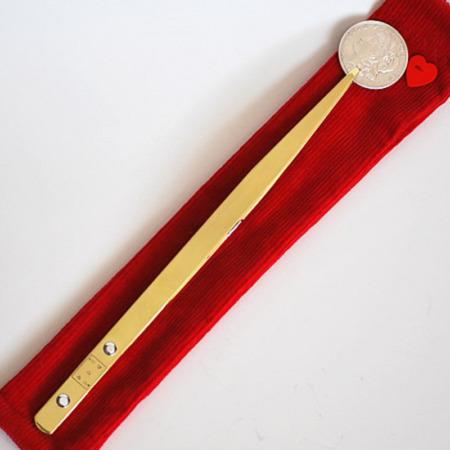 A Miser Dreamer's dreamed prop

Since getting the Wolf Classic Coin Ladder and Levent's "Ultimate Guide to the Miser Dream" DVD, I have been on the lookout for related props or gaffs to enhance this classic effect. Colin Rose of Five of Hearts has released an ingenious, beautifully crafted, solid brass tweezers to make a coin repeatedly appear on its tips and give the perfect illusion of the coin dropping into a container, with convincing sound effect.

The tweezers are heavy duty, measure close to 10 inches, and the method will intrigue you as it did me. The handle has the Five of Hearts trademark beautifully engraved on the handle. Though the tweezers are available mainly in American Half dollars or Euros, I believe, I challenged Colin to custom build one using a 1921 Morgan silver dollar I mailed him. This makes the prop useable with my Wolf Coin Ladder. He came through and it's a prop I am most proud to own…I am always nervous when I get a new effect for my collection, fearing it will not meet my stubborn picky taste.

There are certainly minor angle issues, especially with the heavier dollar coin, but easily overcomed with a different handling than found in the instructions. It is quite entertaining and magical to practice in front of a large mirror. Seeing that coin suddenly appear as if caught out of the air is astonishing.

Most highly recommended!!

Click here for more information.