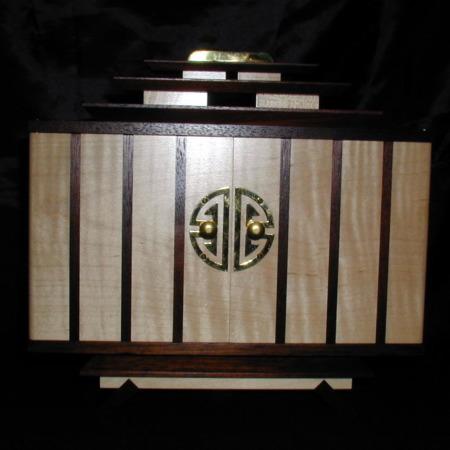 George Robinson is to be congratulated on this one

This item took nearly a year to receive, but it was more than well worth it. When I first learned of this new CW item, I couldn't believe the price. Rather than ordering online, I had to call George at Viking to verify the price and wasted no time to be the second person ordering it.

Well, the chest is a BEAUTY, practically museum quality, and a testament to skilled woodworking. The images on the Viking site definitely do not do justice to this prop. The choice of SOLID hardwoods is to be commended. Dark walnut contrasts wonderfully with the lighter colored maple. The maple used for the doors is matched, nicely grained, figured on one side, and inlayed with walnut accents..gorgeous. The Japanese design to the chest is most attractive and should get the stares.

The chest is subtlety gimmicked in three places, and yes, you will need to read the instructions to find them. Quality accessories, some gimmicked, come with the chest to perform the SEVEN effects described in the well-written multi-page instructions.

The first effect is the classic "Astro-Ball" done with a gold/black cloth ball and a turned wood Japanese bowl. Second, is "Ring on Wand" – borrowed ring followed by large brass ring penetrate solid brass wand running across the chest with tips clearly visible protruding on both walls. George added his own improvement to this old Grant effect. Third, is "Samurai's Legacy", a large Chinese coins and cord penetration effect. Fourth, is "Sefalaljia" – a classic single ring on cord using the "hook" method plus a bonus non-hook alternative called "Massecar Variation" is described. "Life's Lesson/The Marriage Ceremony" is the two-loop rope linking effect popular in another apparatus, Dean's Box. The remaining two are old effects, "Hindu Ring Mystery" by Eddie Joseph and "Block Cord", done in style with this chest. The supplied block has a red lacquered finish with brass Chinese coins inlayed on 4 sides..very nice!

The effects are not necessarily "originals" but definitely first class acts in the context of this versatile chest. As mentioned in the instructions, the Spirit Chest represents a "unique theatre". It turns otherwise "simple" effects into a truly magical experience. A worthy addition to the CW line, I would have paid twice the asking price, if not more. Now, hopefully, ideas and new effects can be gathered, in due time, for a manuscript. What do you think, George?

Click here for more information.