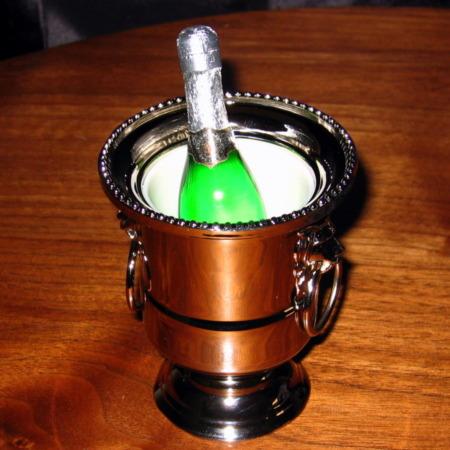 I really think this is one cute prop!

Received my Champagne Chop today and I really love this little thing. After purchasing chop cups from Jim Riser and Howard Hale, I thought I had enough chop cups, but Chance's imagination came out with a splendid twist to the old gimmick. The props are top quality as have been everyone of Chance's "micro-magic" line to date. The bucket has a certain weight to it that quickly tells you without further inspection that this is no flimsy bucket. It's beatifully chromed, heavy, and nicely decorated. The Wolf Magic logo is engraved on the bottom of the bucket's plastic liner.

It comes with three clean corks branded with grape/leaves decoration, one is normal, second is gimmicked, and the third passes as a "cork screw". I would have liked miniature champagne corks with their characteristic shape to match the theme, but I will admit that, for ease of operation, these straight ones are preferrable. There are two miniature REAL bottles of wine, one Champagne and the other an Italian Rose included. It all comes stored in a beautiful two tone (dark blue exterior with a silvery inside) drawstring bag and an accompanying DVD.

After some fun examining this new addition, the set is now displayed prominently with the rest of my magic collection and I am sure it will get plenty of stares and questions about it. Keep them coming, Chance!


Click here for more information.