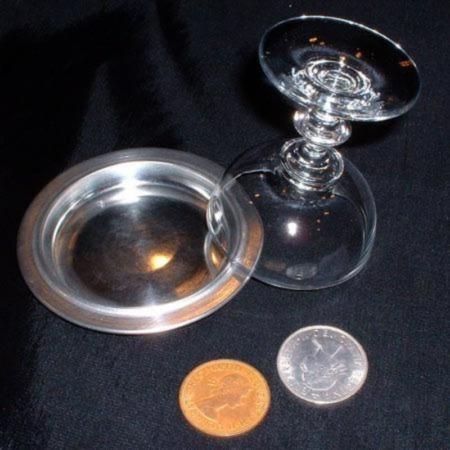 Always loved this one!

Blasted is one of those effects you just have to love it when you see it performed for the first time. It is dramatic..Copenetro without the fancy mechanics. This is particularly true when you are an adolescent, many years ago, new to magic, and a demonstrator at Hollywood Magic brings this out to blow your mind. It was then made by Tannen's and somehow it left my collection many years ago.

However, recently Mario Carrandi put this beauty on ebay, a mint Blasted made in the 1960's by England's Harry Stanley and I went for it. Oh, what nostalgia!

Tannen also released in a "smaller" version, Blasted Jr., using a simple low plastic cover instead of the glass goblet, The coins were a dime/penny instead of the larger English coins (though Tannen's used a Kennedy Half for the English Silver in their version of Blasted).

The effect is two contrasting coins are shown. The Silver one is placed on the metal tray and covered with the inverted glass. The copper is held above on the glass, then suddenly and visibly, it appears inside alongside the Silver coin. Glass removed and the coins freely showned. Beautiful magic!
Click here for more information.