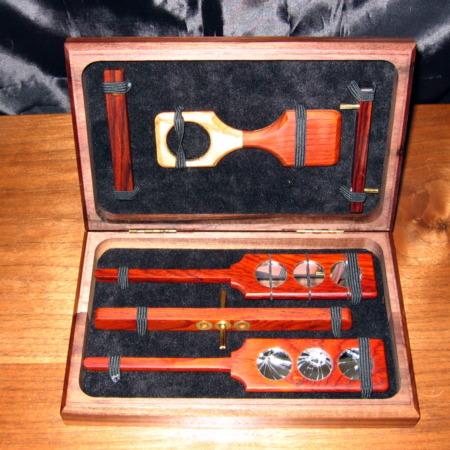 Move over Mr. Porper!
Good Bloody Night, these paddles are amazing! I've known for some time how talented Chance Wolf is with newer hi-tech materials. However I had no idea he is a true craftsman of the old ways too! This whole collection is amazing: from the beautiful box they are stored in, to the incredible individuality of each paddle, to the video demos that comes with the outfit.
Everything is a sheer delight. It is very hard to understand how this much talent, dedication and thought can be bought for so little in our world of highly inflated prices. These paddles are just an incredible deal.
What is more, Chance offers some great new ideas and moves in the easy to follow video. One of the best things about this whole set is that there are no moving parts on the paddles and everything is focused on ease of use with basically no re-set. Although the moves are simple, they create an incredible illusion, which just goes to show you the simplest magic is still the best.
I look forward to more mini-magic offerings from Wolf's Magic – the industry could certainly use the breath of fresh, magical air that is emanating from this incredibly talented company.
Most Highly Recommended!
Click here for more information.