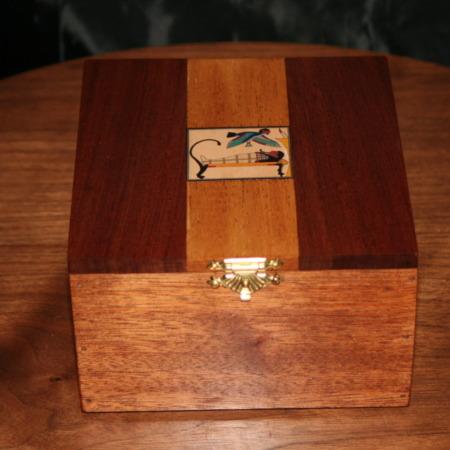 Finally François Finds His Groove!

I have slowly but surely been more and more impressed with the young craftsman from France: François Danis. Some of his early works were just good, but this newest version of his Wandering Mummies is fantastic and easily his best work to date. I have had many $link(nd=wmummy,Mummy sets), but at this point this is my favorite.

This is the first version of his Mummies that uses Mahogany and Samba for the carrying case and walnut for the caskets and the difference shows. The finish on this set matches Mel Babcock at his finest, and is even close to the ultra fine tolerances of Alan Warner. One of the really wonderful things about his work is the unique artwork that is used throughout his creations. He also offers you a number of choices of designs for the finished work, making every piece truly custom.

These Mummies also come with a very well written routine by Ian Buckland. Most Mummy routines are pretty bare bones, but this one blends all the moves together and makes the whole effect become much more of a miracle with an interesting storyline too.

All in all a truly wonderful set that should be in all collections!

There is a new standard that I am starting called $link(nd=ggs,The GG Standard) for those highly prized items that are suitable for only the finest collections. The standard is named after the collector whom I know only accepts the very best into his collection.

This, my friends, certainly lives up to $link(nd=ggs,The GG Standard!) It is truly beautiful and unique. Very well done François, and congratulations on making a tired, old Mummy fan get excited about your new Mummy! I look forward to seeing how much further you can grow.

Most Highly Recommended!
Click here for more information.