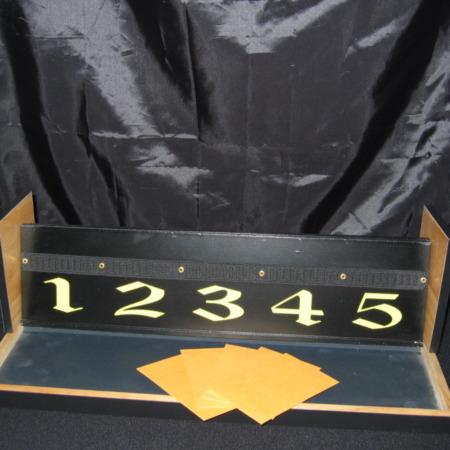 This really is a Wonderful Utility Prop!

I love this prop. It has many, many uses and is a clever, but simple to operate, prop that you will love. You can perform many kinds of prediction effects from cards, to billets, to random questions. You can use it to force a card or cards, colors, numbers, etc. You can use it for a very clean Bank Night effect.

You can also use this prop to display cards, as a tray or as a black board. In addition, it is a very clever switching device that is very clean and silent. It truly is a utility prop.

This version comes with 4 pages of routines and ideas by Jay Leslie.

This effect was created by Herb Ort in 1956. It was then purchased by Jim Swoger in 1971 and the House of Enchantment. It has subsequently been re-released by Jay Leslie and the House of Enchantment in 2004. Illusion Makers made an unauthorized copy using the same method in the late '70s or early '80's called $link(1312,Quadraplex). Quadraplex was built slightly better than the current Util-A-Prop with finer woods and materials, but they did so without any authority or permission of the original inventor. Even so Util-A-Prop is very well made and you will find many uses for it.

Highly Recommended!
Click here for more information.