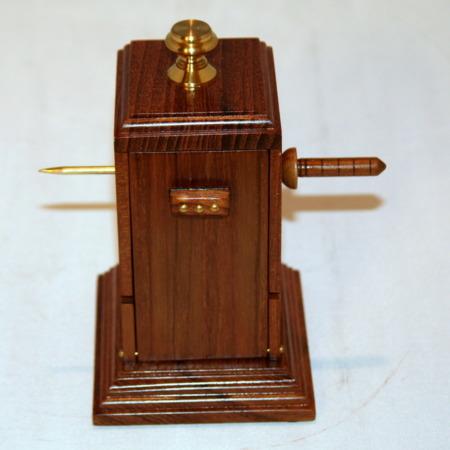 5 Stars for: Craftsmanship, Ingenuity, and Entertainment!

Readers of my reviews know already how enamoured I am with the items from the $link(nd=magicwagon,Magic Wagon). Their $link(nd=wagoncollector,Collecter Line), in particular, is amazing! Well $link(http://www.magic-wagon.com/ProductDetail.asp?id=38 target=_blank,their latest item) was developed in collaboration with Howie at The Trickery and it is the best thing they have done so far. All of their work has looked amazing but sometimes the impact of the effect does not match up to the beauty of their creations. Not so with the Sword of The Ring – this is a real fooler for sure.

You show the ornate box very openly and cleanly, take out the ring holder at the bottom and borrow any ring. The spectator places the ring in the holder and it is placed at the bottom of the Ring Tower. Everything is exactly as it looks. You close up the tower and hand out the sword for examination too. You now rest the sword at the top of the tower in two grooves and then slowly but surely lower the sword. Both ends can be clearly seen at all times and yet when you reach the bottom the ring is clearly on the sword and can be taken out by the spectator if desired.

This is a very clean penetration with beautiful props. Reset is immediate and there are no sleights, nothing is added or taken away, etc. There is one thing you have to do but it is trivial and covered beautifully in the routine – there is zero heat on you at the time of this "move". What is particularly nice is that when the penetration takes place the audience can really be staring and they'll see or hear nothing – it looks very convincing.

The tower unit cannot be fully examined but the sword and holder can be and everything looks clean.

If you have liked their other pieces then for sure you will get this. However, if you want only one piece then this would be it. Why not start your collection today – they have plenty more items on the way too!

Highly Recommended!
Click here for more information.