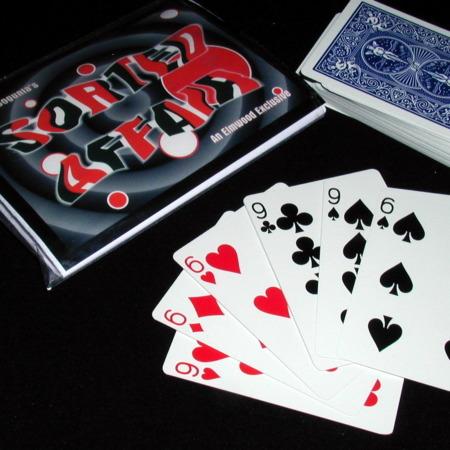 This is a bloody Miracle!

Well … none of us need any more packet tricks. Or do we? This trick from Elmwood Magic uses a whole deck, but it is certainly a packet trick. Its easy to do, with no sleights, no double face/double back cards, and even when you have the cards in your hand it works quite amazingly.

Now to get as slick as Paul Richards will take a lifetime of practice and smooth talking, but you could be up and running with this baby in about 30 minutes after reading the instructions – and look good!

The basic routine goes like this: openly count off 6 cards face down, show the rest of the deck to be clearly mixed (reds and blacks) and you can shuffle them if you want. Place the body of the deck aside. Now show the six cards that were placed face down and show that you have 3 reds and 3 blacks. You now proceed to cleanly deal one red followed by one black – at the end the reds and blacks are separated again. You can repeat this to the cows come home and really show they are interlaced. But each time they end up separated. As a kicker for the end of the routine you turn over the rest of the deck, and they two are now in separate piles of blacks and reds.

A great trick with a kicker ending. The deck is left set-up for Paul Curry's Out of This World, and part of me thinks it would make a natural lead in to that amazing effect. Maybe too many reds and blacks but its a thought.

Not all packet tricks are the same, and this one is definately one you will use!
Click here for more information.