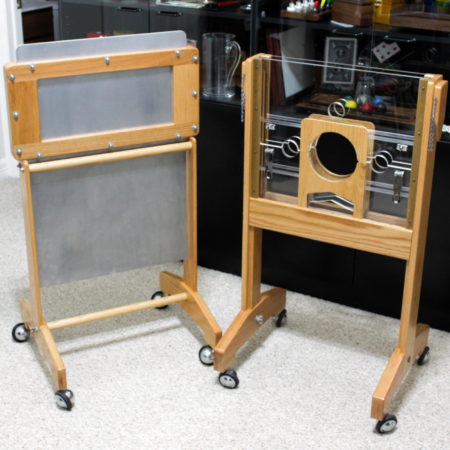 My Favorite Perfect Illusion

I've always loved Bill Schmeelk's (Wellingtion Enterprises) close-up items – the $link(861,Mini-Magic Switchboard), $link(4077,Guardian of the Grave), and more recently the $link(4409,Mystery of the Pyramids Outdone). They are beautifully made, work perfectly, and are all clever in their method. But I've fancied for some time his amazing See-Thru Guillotine. Sadly it was well out of my price range.

However, recently I sold a bunch of magic and decided that it was time to really see how good this item was. I must say this was probably one of the most nervous purchases I have ever contemplated. I've never spent so many $1000's on one item before, and really don't do stage or even parlor shows much these days. But I went ahead anyway. When it arrived I opened it with some real trepidation – could this be my most expensive magic mistake (I've been disappointed 100's of times in the past)?

As I opened the $link(4598,custom ATA case) I began to beam. Even the case was perfect! As I assembled the illusion I marveled at how well constructed everything was – this should have not been a surprise based on the smaller items I have of Bill's. Eventually I had it all unpacked and set-up, but still couldn't fully understand how it worked, so I finally sat down and studied the instructions.

This truly is the perfect illusion. I love it and think it is worth every single penny. I may not perform it much, but when I do I know it will amaze and amuse my audiences. I've had about seven different choppers over the years, but this one is easily the most beautiful and most convincing. Without a doubt this is my favorite illusion now, and in fact probably my favorite item I have ever owned – and I've purchased thousands over the years.

I love it, love it, love it! I was starting to get a bit jaded with magic over the last couple of years, but this beautiful creation has 100% got me back. I already have two stage shows lined up for the holidays and maybe more. Thank-you Bill for producing such an amazing item – it truly is breathtaking.
Click here for more information.