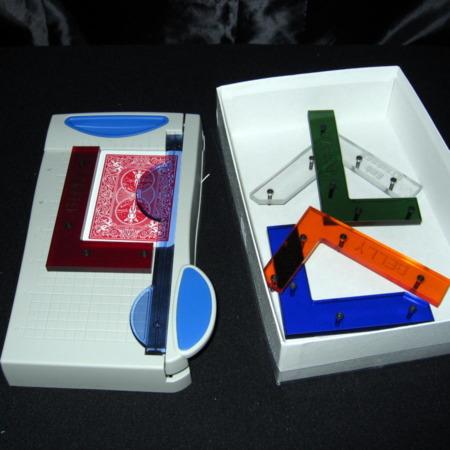 Great for Hobbyists – just don't open a Store with it!

Making up decks with short cards, narrow cards and rough and smooth is great fun! Until this unit came along there really wasn't much of an alternative but to get a $link(http://www.jamesriser.com/Magic/Card/Trimmer.html target=_blank, professional unit) to do your card cutting. Of course if you had the cash having one of these would be best. However, not many people have $700-$2000 spare to spend on a card cutter.

I have made up three decks with this card cutter and found it to do a fine job. It is not very flexible because you are unable to change the size of the cut you are making – if it is not one of the 5 templates that come with the unit. Most hobbyists want to create short cards or strippers, and as long as you don't want to increase the depth of the cut this will do a fine job. You have to be careful and hold the card steady but it is certainly possible to create a svengali or stripper deck with no problem. And is quicker than you would imagine – about 30 minutes should see you done with a complete deck once you get the hang of it.

I was unable to create a $link(173,Chameleon deck) (where you have cards in sets of 3) as the short cards were not short enough and gave me incomplete results.

But if you need to shorten odd cards for packet tricks or make up some standard decks you should be fine and it is great fun to experiment. This unit will not round corners either so you will need something else to do that, and the instructions provide a number of options. You can get them from an office supplies store or pay twice as much for $link(1738,this one)!

I hope to be able to get a proper card cutter one day, but until that happens this will keep me happy!
Click here for more information.