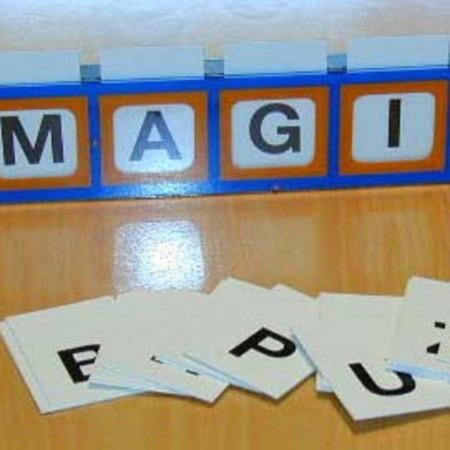 Spelling bee board

This is a great versatile effect that can be used for a variety of shows. Well built and customizable, the board shows a word spelled with separate letters, you turn the board around, remove the letters, shuffle them face down and either you or a volunteer randomly puts them back into the board. when the board is turned around again to face the audience, the original (or a different) word has been spelled perfectly. Great effect, seemingly impossible, and it works just as well for adults as it does for a family or children's audience.

A great prop that I use often. especially when I'm asked to perform at a themed show and I need a custom trick quick. Superhero show? have the word spell a hero's name. Corporate show? have the company's name or their product written on the board. Recycling show, have the letters spell recycle. Child's birthday? have the letters spell the child's name!

You are limited to words with the same number of letters in it than your board can hold. Smaller words will work also. Sometimes the bottom of the prop will separate a bit causing the letters to fall through the crack, but a bit of tape or glue and it's an easy fix. this is a well built solid prop (block of wood and plexiglass) that will last a long time. the letters may need replacing after a few years though.
Click here for more information.