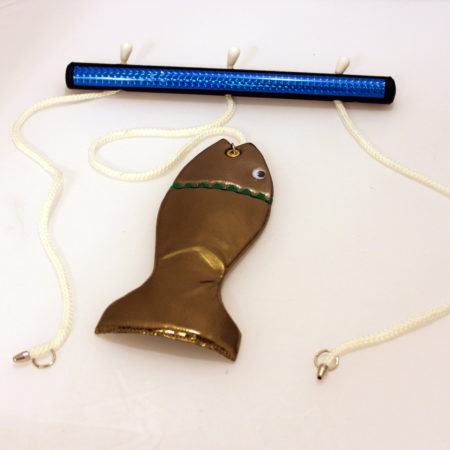 Acrobatic Fish

This is a wonderful "sucker" type of an effect. I've been using it to open my "pirate" themed shows for years, but it works well for all my shows. The effect has you show a fish on a pole that is dangling from a rope, and two other ropes are dangling from the pole as well. You state the fish will jump to another rope and you do it the first couple times by turning the pole around behind your back. the audience sees what your are doing and they go wild. The final time, when everyone thinks they know how it's done, the fish "jumps" to the middle fishing line. Just when everyone is reacting to the "sucker" moment the kicker ending has 3 fish appear each on the end of each string. This effect is a version of the "monkey bar" trick and is also available with silks.

The Acrobatic Fish is a well built prop. the fish are bright and shiny and the tube is strong and has a shiny reflective strip on it. I've performed it for very large groups and everyone has a clear view of the fish and the pole. Many other effects of this nature are not so visible. After touring with this prop I've found keeping a role of double sided sticky tape handy is helpful. After a few heavy summers of 2-3 shows a day sometimes the fish's googly eyes fall off, or the plugs at the end of the tubes come unstuck. This is from heavy use though, and is not a reflection of the well built prop itself.

Very bright, visible prop
Well built, and easily repaired if necessary
Fish theme makes patter lines easy
Click here for more information.