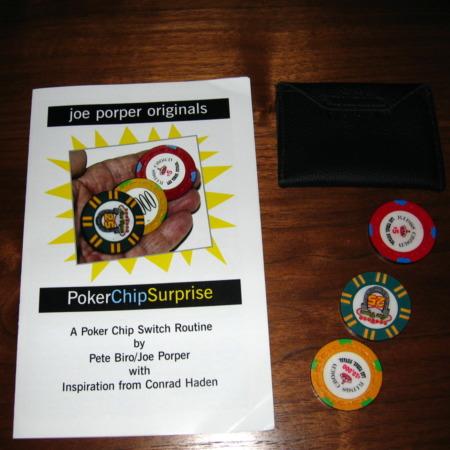 A 5 Star Winner! HIGHLY RECCOMENDED!

If, like me, you have been performing magic for quite some time, most likely you have in your possesion a good stable of coin tricks.

If you own any of Joe Porper's props, you know that their quality just can't be beat…period.

This "new twist" on the familiar Connie Hayden-type coin props is a WINNER in every respect.

The included props are of the highest possible quality, extremely colorful, very easy to work with and are highly visual and an absolute bargain at the price.

In addition, a TERRIFFIC routine and presentation is included.

With Poker being so popular today, presenting this "Mini-Illusion" up close and personal (and even in the spectator's hands) provides a very spectacular 3-way punch, and the best part is, at the end you are left clean and the spectators are totally blown away. This is a convincer folks!

Do yourself a favor: JUST BUY IT….YOU WON"T REGRET IT.

Poker Chip Surprise receives my highest possible reccomendation!



Click here for more information.