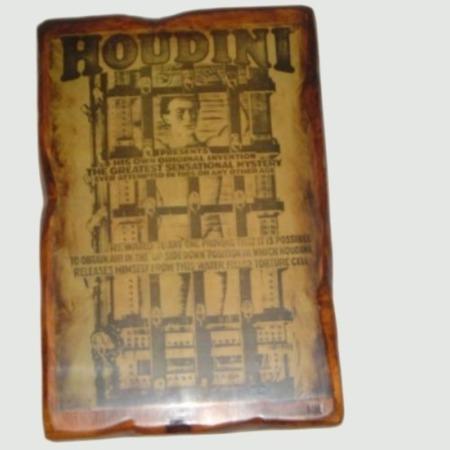 What happens when printers try to be nice!

This is a very unique example of a helpful printer of days gone by making an honest mistake while trying to be helpful to the famous Harry Houdini.
This poster was obtained from Jerry Matalo (not certain of the correct spelling) who was Houdini's metal worker. At some point in time after Houdini's passing, he acquired many of Houdini's show pieces (including curtains, etc.) and this poster.
The story is that Houdini had ordered a quantity of posters featuring his Upside Down Escape. Of course, the pictures supplied to the printer correctly showed Houdini Upside Down in the restraint.
The helpful(?) printer surmised there must have been an error in showing the performer Upside Down, so the printer took it upon himself to correct(?) the problem by changing the position of the performer so he was pictured upright.
If you look carefully at the poster you will see the locks are hanging in the wrong direction contrary to the laws of nature.
Houdini's crew spotted the problem and supposedly the posters were never distributed to the public.
Click here for more information.