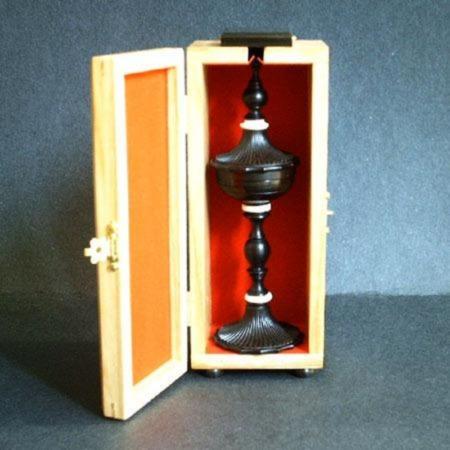 Beautifully turned magical heirloom

Colin Rose has released a series of "old fashioned" magic apparatus under his Victorian Collection banner with the intricacies and artistic appeal of a long forgotten era where attention to details by the craftsmen of the time made these items museum quality pieces to be cherished over generations. This is a lost art as it requires skill and patience.

The Coin Vase is probably his best effort for the price. It's based on the ball vase method, but done with a coin. No instructions are included as the apparatus is open to the performer's imagination.

It's really a beautiful hand turned vase made from African Blackwood with white bone accents and protected in an English Oak chest that is a beauty in itself to match the apparatus inside. The only woodwork of this quality that I have seen is the very, and I mean very, expensive special handturned items from Owen Magic.
Click here for more information.