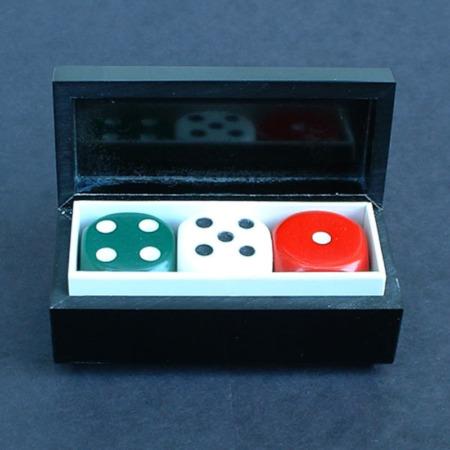 Now I believe the hype on this craftsman

This is the first Taytelbaum item in my collection and it's a great piece. Small black box houses three different colored dice. One die is simply tilted out, placed in the pocket, and the box clearly only shows two remaining dice. Box is closed and slightly shaken to demonstrate that there are still the dice loose inside. Magic words, box is opened and the die has returned to the box. The method is quite diabolical and automatic in execution. No palming and no fancy moves. I would never have guessed it…what a clever mind!

Constructed of some plastic material, standard material for Eddy, doesn't detract from the quality of this item. I had previously commented that Eddy's stuff was probably just "fancy Tenyo" stuff. Well, I must apologize and retract those words. This particular item is definitely on a different level of craftsmanship. I love it so much that it now resides with my beloved Warner collection. I first heard of Eddy Taytelbaum when I became interested in Alan Warner. Eddy was actually the inspiration for Alan to develop his line of Mini-Magic.

It's just too bad that quality like this is rare.
Click here for more information.