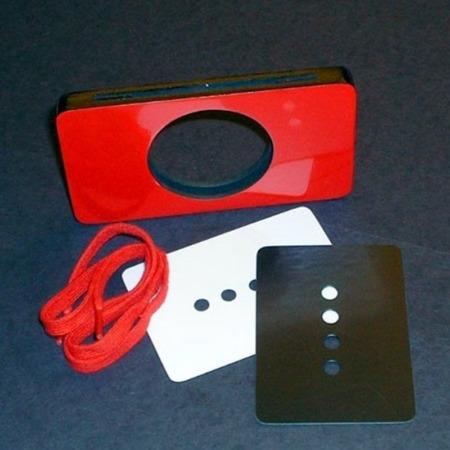 One gorgeous Warner version of a classic

This is an early painted item from Alan; his version of a classic. I have always loved this effect that I had Howard Hale of WoodMagic build me a custom version of his Clear Deception using exotic woods. Alan never released a teak version but it would be difficult to beat this brilliantly painted piece and it sure stands out nicely with my other cherished Warner pieces.

Leave it to Alan to add a twist to this routine. Two, not one, slotted cards are shown, one black and one white. One is chosen and both cards placed in a red holder with a large hole so that the two cards can become trapped to each other by lacing them with a red shoe string. Concentrate and the chosen card rises up loose from it's string entrapment. Great magic and oustanding props.
Click here for more information.