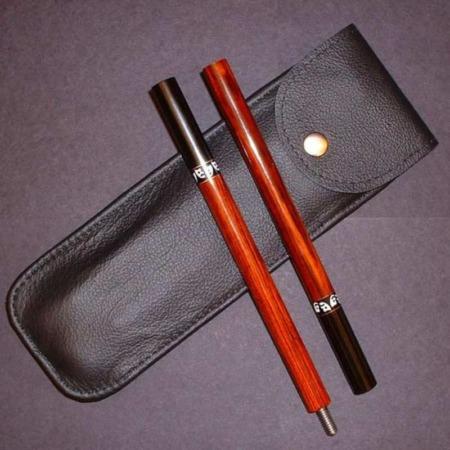 Move over Mr. Ollivander, Mr. Wayne is here

According to Thomas Wayne's description, this is the actual wand design he built for Bill Malone; Eric DeCamps, a good friend of Malone's, later ordered an identical wand. Well, I loved it the moment I first saw it and Thomas was nice to make me one, too. The wand is composed of rich, exotic Cocobolo for the shaft with Gabon Ebony ferrules and Gold pin-rings as pictured; the inlays of "theater masks" are real Ivory. The leather case that cradles each section individually is lined with European billiard cloth. The joints at the center are amazingly invisible. Remember this is the man that is famous for his fabulous cue sticks.

Magic wands have always been a symbol of this magic craft we all admire and a beautiful wand like this one shows to your audience that you mean business on its appearance. Misdirection can definitely be aided by the presence of a wand in a routine. What's a great Cups and Balls routine without a wand. If anything, a wand of this quality is one fine work of art. Thanks, Thomas for such impeccable craftsmanship.

Click here for more information.