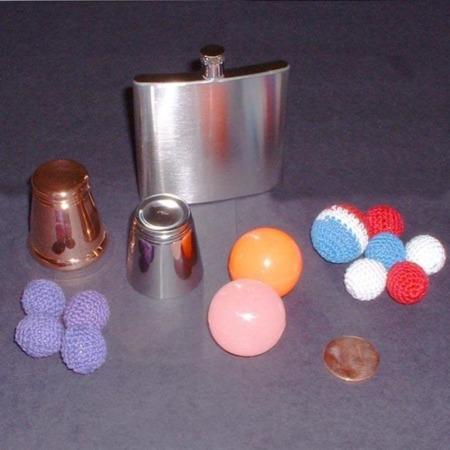 The Cutest Chop Cup and a Great Routine

This is the fabulous Riser Micro Chop Cup in both copper and stainless steel. The professional and entertaining routine that accompanies the props is by Dennis Loomis. What a team these two have been to release this item to the magic community. The cups are quite small, about the size of a shot glass, but don't let the size fool you. This is practical and beautiful magic. These will not stay on your shelf and look pretty. Jim Riser has done a fantastic job with the machining of these cups. Again, inside each cup you will find engraved "James P Riser" to authenticate these little wonders. If you do any chop cup routine, or even if you have no interest in the chop cup, I can guarantee you that you will love this set. The Loomis routine is performed right on your palm, which serves as a "table" for the cup; this is a great concept as you can feel the dislodging ball and rectifies one major problem I have encountered with chop cups.

The first picture also shows two current accessories: 1) the Aldo Colombini's Laser Cup routine with the red, white, blue, and combo balls (a devil handkerchief, included, but not pictured); and 2) the Knock-Out Disk. Jim plans to release a special Sacagewea gaff coin in the near future for coin cup routines. So, many possibilities abound with these cups. Again, thanks Jim and Dennis for such a great release.

Click here for more information.