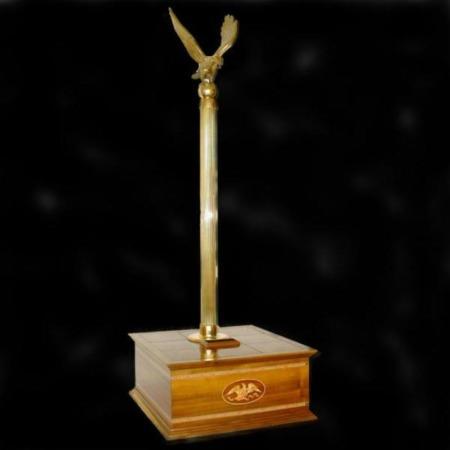 Awesome prop with that classic look

This is the largest item in my collection, standing about 39 inches in height. It's also likely the largest piece from Milson-Worth. Lynn Johnson re-created this item from one he may have seen in the Albo books, though he definitely brought it to modern standards. The effect starts out with a freely selected card that is signed for later identification; piece may even be torn off, if needed. The card returned to the deck and shuffled. The deck is then placed into the slot atop on the cabinet and the magician stands back. With the wave of his wand the cards start flying high up into the air. When everything has settled, one card only is seen held in the beak of the brass eagle. It proves to be the selected card.

The cabinet is beautiful black walnut, with a fancy wood American eagle design inlayed on the front. The top portion of the cabinet is burled maple. The pillar and the eagle are solid brass. The mechanics inside the box is a marvel of solenoids, timers, motorized reels, etc. Remember that Lynn has an engineering background. This is one breath-taking piece. I remember when I ordered this item 13 years ago, Lynn took over 9 months to complete it. I had bought it sight unseen, so I was quite awestruck when I drove to his workshop to pick it up.

Click here for more information.