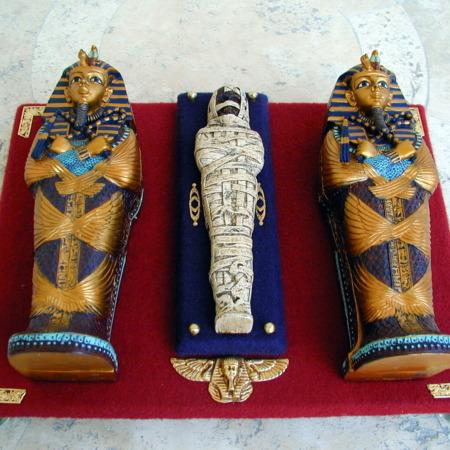 WOW,,,What a MUMMY!!

Literally, that was my impression when I unpacked this beauty. I have been an avid collector of Richard's work and this is one great piece. It's visually stunning and the method is so smooth and effortless. The apparent "stock" mummies used may put off many but they are, first, beautifully detailed. Second, extensive precision modifications by Richard himself are involved in the mummy and coffins to make this miracle a true handcrafted item. If one read some of the detail steps involved in building this effect, you would no doubt admire Richard's ingenuity and commitment to excellence, typical of his magic as anyone who owns one his pieces can attest.

Richard has added "drama" to this effect with more realistic scaled props. The base serves so well as a "ritual altar" and center stage to perform this popular mystery…nice touch, Richard. Richard has probably contributed the best version of this effect, though admittedly I also have a soft spot for the Warner Mummy…just love his magic but that is another story. Richard's new Mummy definitely requires no awkward moves and quite silent in operation. I would definitely rank the Gerlitz Mummy well above the "toy-like" Taytelbaum Mummy that sold recently on ebay at inflated prices…I am sure to get an outrage over this comment!

Richard's work is becoming one hot collectible and a wise investment. Just see the winning bids on his sold-out items in ebay and you will realize this fact. Also, remember Richard only makes 10 to 20 pieces so they are rare and collectors seem to hold on to these babies so few become available again. Most Highly Recommended. Thanks, so much!


Click here for more information.