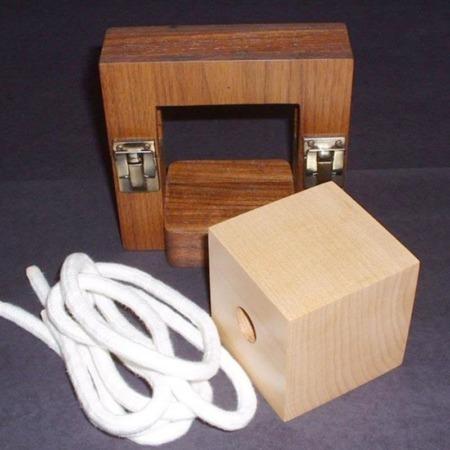 Beautiful Rare Close-up Version of a Classic

I remember when I started in Magic, the first "real" catalog on magic I owned was Abbott's. There was one effect I loved but couldn't afford it at the time. That was Jack Hughes's Cube on Release. This piece by Jim Riser is a "miniature" rendition of this effect and it's beautiful. The frame is solid dark walnut construction and the cube, a contrasting light colored maple. The natural wood finish is a first in this version. I believe all Cube on Release apparatus in the past were painted. The size of the apparatus is just perfect for close-up; the cube is 2 3/4 inches. The Abbott's model used a 5-inch cube. Jim designed his version so that the frame, along with the cube and ropes, can be passed out for examination at the end of the routine.

This is quite a rare item. Jim only made two of these and has no plans to make any more. The last I heard, John Mendoza owned the other remaining piece. Jim has built a well-deserved reputation for his famous spunned cups. What may not be well known is his exemplary woodworking skill and this apparatus clearly shows it. Thanks, Jim, for such a wonderful recreation of a classic piece of magic.

Click here for more information.