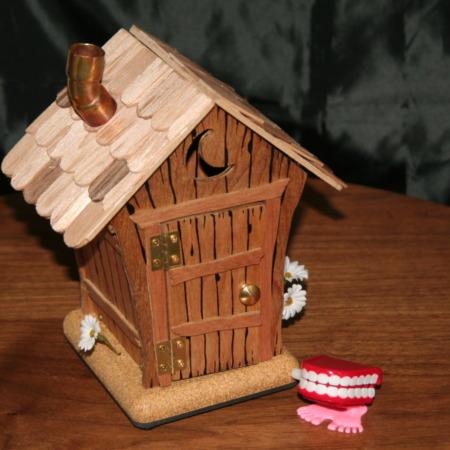 This Outhouse is the IN thing!

I have followed Chance's magic since he opened up shop, but never dived into his Wacky children effects because of the size and lack of interest in children's magic. Well, I have learned that children's magic can be quite entertaining to an adult audience. The routine is often a complete show in itself with a comical story to back it up…it always brings a big smile, and a chuckle, just imagining the presentation in your head when you read the instructions.

The new Wacky Micro-magic line is a beauty consisting of tiny, very colorful, entertaining, and well built props. This new Mini Outhouse is, simply, adorable! It captures most, if not all, of its big brother's features…actually the "hole" seat in the Mini is more consistant with a real outhouse than the flushing toilet in the big model, but that's such a minor issue.

This is an all wood construction with a "rustic", but very appropriate, look..hey, have you ever seen an outhouse with the looks of a Frank Lloyd Wright design and built 😉 The workmanship is superb and everything functions well. It has been an honor to add these new Wacky Micro-Magic items to my collection. Will definitely look forward to more from this builder…thanks, Chance!
Click here for more information.