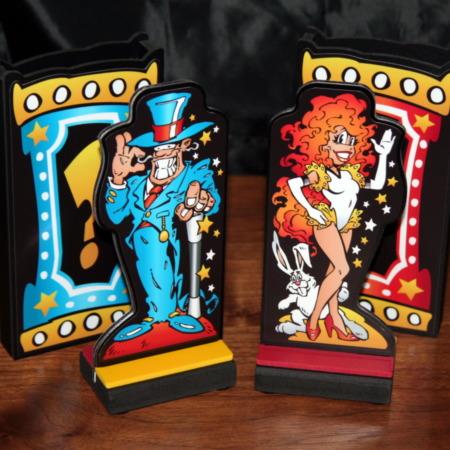 Absolutely gorgeous little hip hop set

I have always had a love for this effect and thought the Collectors' Workshop Rabbits were the cutest mini-version of it. Well, the Wacky Wolf has released the one to contend for the BEST! The use of magnets sure makes the operation automatic, but I will need to carefully read the instruction and practice as those little magnets are strong.

Though I love the entire set of his Micro-Wacky line, the Micro Hip Hop Magician is clearly my favorite…perhaps, it has to do with a wish I asked of Chance when the BIG version first appeared from Chance's workshop…I recall I may have even offered to pay a reasonable sum for a custom smaller version at that time. Well, patience finally payed off…thanks, Chance for the wonderful magic.
Click here for more information.