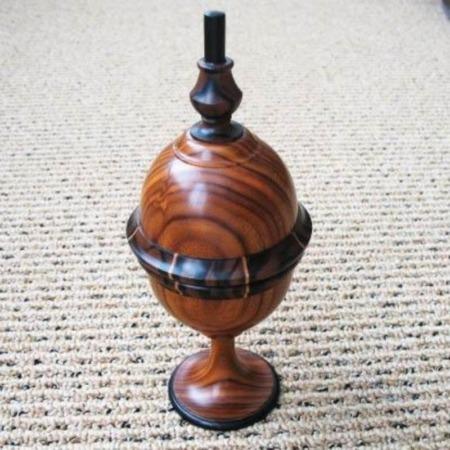 Great Undiscovered Craftsmanship

This is one absolutely gorgeous woodturned Pillbox and an upcoming stardom for Angelo Iafrate of Majic Brand. 2006 is the first serious year for this experienced woodworker turned magic builder and, if this Pillbox is any indication of his skills, you are looking at the next all wood magic collectible. His work is now serially numbered, mine being #24.

It's hefty in weight…lots of good exotic wood is used and the finish is so smooth to the touch. Exotic rare woods – Brazilian Rosewood, Macassar Ebony, and Gabon Ebony – make up this piece and all the components fit perfectly with incredible close tolerance. The amazing thing is that there are three unsold Majic Pillboxes on Ron Allesi's auction site…unbelievable, but, then Angelo is an "unknown". But…this was also true of Richard Gerlitz 5-6 years ago and Alan Warner back in 1972.

This is one of those "looks much better up front and close than any photos can convey" item. For the added personal touch, the simple, but convenient, white storage tube for the Pillbox has a customized label, with even a photo of the Pillbox on it…nice! I will definitely be following this newcomer on the magic collectible scene. Now, if Angelo would expand his skills to other wood based magic apparatus, we would be looking at the next Mel Babcock.

Click here for more information.