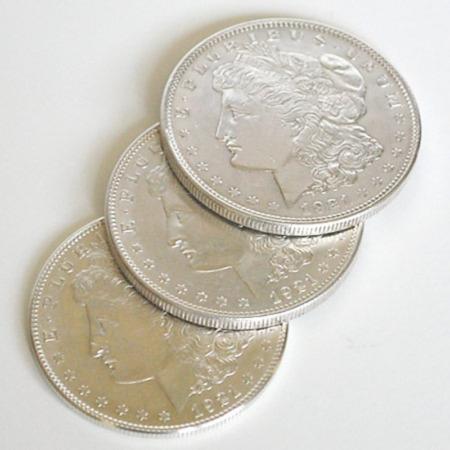 Are There Any Losers from Todd?

Came back from vacation and this beauty was waiting for me. This is one of Todd's most requested item I've heard. Now that I have it, I can see why it's so popular. One coin becomes two, then three, and all contained in one gaff, nothing added or taken away. I have shown the sequence with the gaff in reverse on the first three images.

I asked Todd to make mine in bright AU 1921 Morgans. I like the details on these clean coins, though many may prefer the quiet, softer, older coins. The magnets used are just right to hold everything together, but easy to un-nest.

Todd included in this recent batch a JOL coin purse…a nice touch. However, I have used these purses when they first came out and I now have them in some drawer…unused. My own experience is that, though the craftsmanship is superb, I find that long term storage in these purses induces an ugly tarnishing on the silver coins. Now, that may be acceptable if you have bright AU coins, as you can clean off the tarnish back to the original luster, but I would have concerns what this could do to soft used coins that come with a beautiful patina.


Click here for more information.