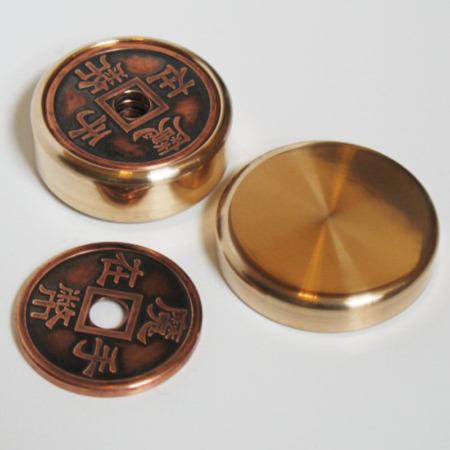 Okito box magic with class!

This heavy, finest bronze coin box is a real beauty to hold. Clearly the best coin box I have ever owned. It has nice rounded edges that look identical whether the box is upright or inverted with the lid in place. I find this more deceptive than the standard straight edge coin boxes on the market. As seen in the last image, the lid is stamped with the Lassen name for authenticity.

The box came with the new "miracle enjoyment" chinese coins Todd has recently released. These are copper, dollar sized, coins custom made for Todd and he has "aged" the copper nicely. These are a real beauty and matched precisely to fit in this coin box. I asked him to make me a shell for the coins which you can see as the fifth coin on the right in the second image. Though the shell will not fit into the box, it does allow me to do the many shell coin routines with these coins, when one may not want to perform another coin box effect.

Truly, another Lassen great and a great addition to my Lassen collection….thanks, Todd!

Click here for more information.