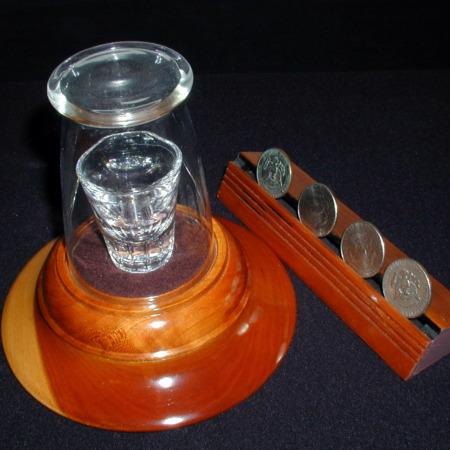 You can't top this one

2 days ago I received from Kenna Thompson an original Kline model made in the 1950's and after some minor buffing and two applications of hand rubbed Carnauba wax, I became so excited with this piece. I owned years ago a "later" model but it doesn't come close to the quality of the original. The base is clearly, and deceptively, smaller in size especially the larger perimeter at the bottom. The top "flare" section of the base is beautifully turned with a nicer design than the later models. The "lip" at the top of the base where the inverted glass rest is larger causing a deeper recess to keep the glass more securely in place. BTW, the original glass is smaller and nicer designed than currently used; mine had a sort of lacy flowery etching around the the top half of the glass that lended a more gracefull look to the apparatus. The mechanics are also clearly better and sturdier from what I can remember from the model I had owned. The rich cherry wood used in these original pieces is gorgeous. The coin stand is much better than the current version; it's appears rather "compact" and more difficult to believe it can hide 4 half dollars.

I have always loved this effect and always pursued any versions of it. I promptly bought CW's Silver Odyssey when it came out. Bottom line: if you ever get a chance to buy a true original Kline, the earlier the model the better, do so and you will not regret it.
Click here for more information.