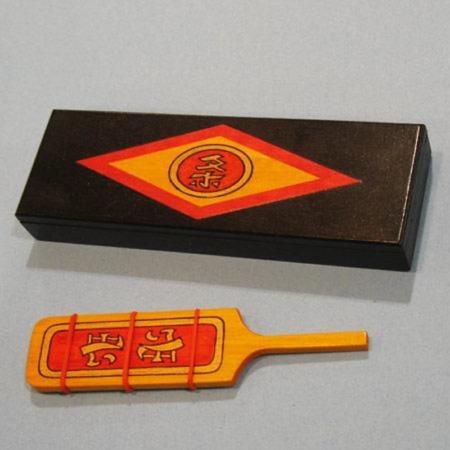 Schwarzman's paddle treat…a lucky find!

I love paddles and this one is a prized one. Beautifully crafted and imported by Howard Schwarzman in the late 1980's (instruction copyright is dated 1988). The seller told me that Howard had informed him only a half dozen were sold, so it seems it is also quite rare. The Oriental diamond design on the lid of the box is actually two wood veneer overlays. This is an all wood construction, including the chips and finished with a smooth clear coating. Superb craftsmanship throughout, for an import!

The effect has a lengthy Chinese gambling theme. Single colored chips double magically, and then change into various colors. Money doubles and a decorative writing grandly appears on the paddle to end the routine. The paddle measures 4 3/4 inches by 1 1/4 inch. The decorative box housing the entire set measures 5 3/4 inches by 2 inches.

Overall, this is truly a gorgeous paddle that is a treasure in my collection. Don't recall how much I paid for it, but after seeing it, I would have gladly had paid much more.

Click here for more information.