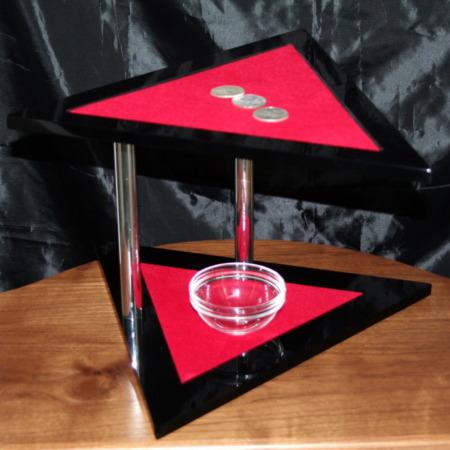 What can I say that hasn't been said or will be said

Note: Due to the high demand of this product there may be a waiting period…this says it quite well and there hasn't been any broad media advertisement from Dean to date that I am aware. I was speechless when I finally received my Dean's Triangle. I told someone who asked me about this item, "if I had to sell my collection and keep only a few pieces, Dean's Triangle would be a keeper".

It's that good (or great!), but, then, there is Doug Malloy manufacturing the Triangle table, Joe Porper supplying the leather storage case, Jamie Schoolcraft machining the beautiful special gaffs, and, of course, Dean Dill putting all this together into, simply, an amazing magical masterpiece. The quality of the props is undescribeable…you just have to see it in person to appreciate it. The routine is bewildering and not that difficult to master. I have never been this enthusiastic about coin magic, other than U3F.

This is the first Dean effect I have ever owned and what a beginning…I will clearly be watching all his future releases, not to mention, re-evaluate his current stuff.
Click here for more information.