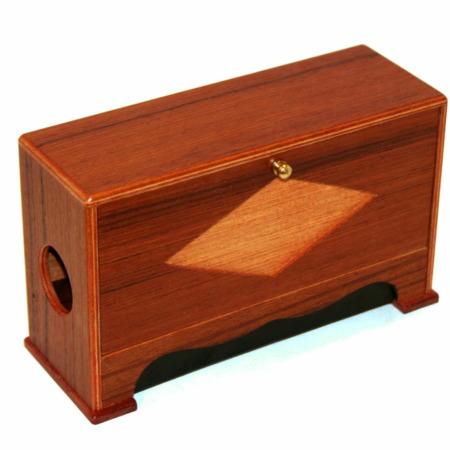 Very beautiful, but not practical for regular use

Mr. Mikame makes beautiful wood magic and this silk cabby is no exception. However, for regular use, this is not very well made. I have had problems with the hinge pins on the gimmick load box coming loose and wriggling out of their holes. I applied a dab of super glue on the outer edge to keep them in place and this seems to help. Another problem is the size of the gimmick load…it seems to be smaller than the load space on other silk cabbys. For example, I have a 50 foot x 4 inch streamer silk that I use in several other cabbys, but only about 3/5 of it will fit into the Mikame load box. Also, one of the doors does not have enough friction to stay closed on its own so I have to hold my fingers over the edge of it to keep it closed during performance. This is a pretty piece for display and occassional performances, but the price is quite high if you are looking for a good silk cabby for regular performances.
Click here for more information.