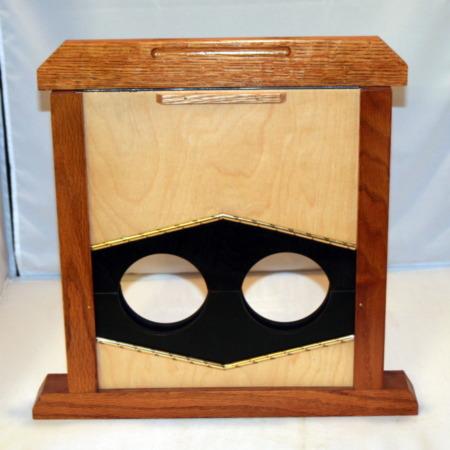 Best Wrist Chopper on the Market

What a marvelous illusion! Joe Fairchild's masterpiece is a great improvement on the traditional guillotine illusions. He delivers a unique prop that is both beautifully crafted and wonderfully spell-binding to audiences of all ages. This wrist chopper uses the same principle as the Clarence Miller's excellent Impossible Penetration finger chopper, but with the larger scale this prop is appropriate for a close-up show or a large stage show. The natural wood finish looks great and the detailed instructions even explain how to "tune" the gimmick as needed to keep it in great working condition for many years to come.

My method of performance is to have a man and a woman each place one arm into the stocks, handcuff them together, and then magically "penetrate" both of their wrists…leaving their hands locked together inside the blade. This allows me to double the audience participation for the trick plus it allows for some comedy patter during the performance.

All in all, I have owned multiple wrist choppers and this is the best–and last–wrist chopper I'll ever use! The price is not cheap, but the craftsmanship and performance value are worth saving up in order to get this great prop.
Click here for more information.