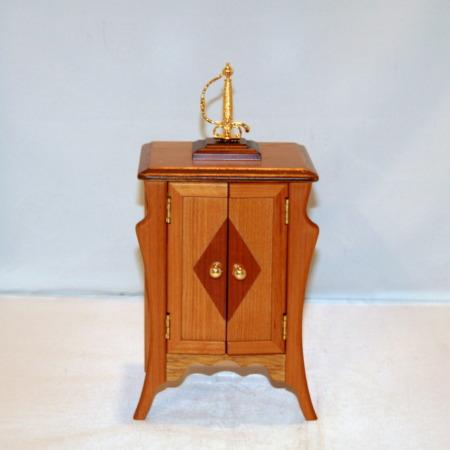 Beautiful piece, but not very functional

Mikame Craft is known for beautiful magic apparatus and Mr. Mikame does not disappoint with this hand-made mirror cabinet. However, due to the hand-made nature of this prop, it is not always functional. I have had the opportunity to "play" with three different cabinets and each one seems to have its own minor problems. On one of them, the inside mirrors did not properly align, so their was the tendency for one side or the other to prematurely spring open. On another cabinet, the hole on the top for the sword appeared to have been drilled too large, so the sword moved around too much…once again causing the mirrors to spring back too soon. The third cabinet had no problem with the mirrors, but the front doors did not properly align and the hinges on one side left about a 1/16" gap in the door because it would not fully close. Again, this is a very beautiful prop for a shelf or desk–and occasional use. But for regular use in performances, this prop is probably not the best option…especially given the very high price.
Click here for more information.