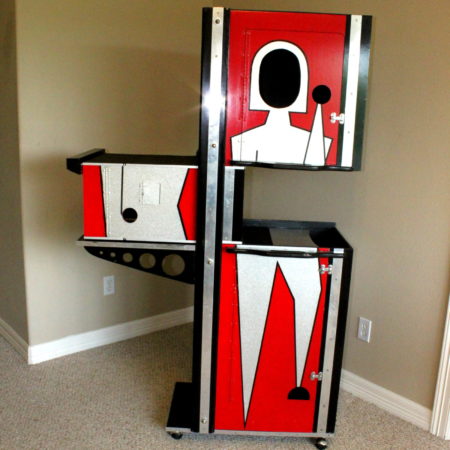 It turns out that just because your wife can jump into a Zig Zag box 16 years ago, doesn't mean she can do it again today without some practice.  So although my wife was almost able to demonstrate the full illusion when I was taking photos she could not quite make the full zag this time around.   Next time we try she'll be more prepared, but in the meantime what a beautiful version of Robert Harbin's finest hour this Zig Zag is.
Built by the perfectionist John Pomeroy in the 1970's, it stands 69″ high and breaks down into two fiber cases.  John Pomeroy was a prolific Builder, Inventor & Performer as well as owner of GEM Magic Manufacturing.  His quality was equal to Owen magic and many other fine builders.  This beautiful custom built Zig Zag Illusion by John Pomeroy is one of the best versions of this stellar illusion I've seen and is a typical example of John's fine craftsmanship. John was so inspired by Harbin's Zig-Zag Illusion that he suggested 35 improvements for its construction all of which were endorsed by Harbin and the two corresponded up until Robert Harbin's death in 1978.
Click here for more information.