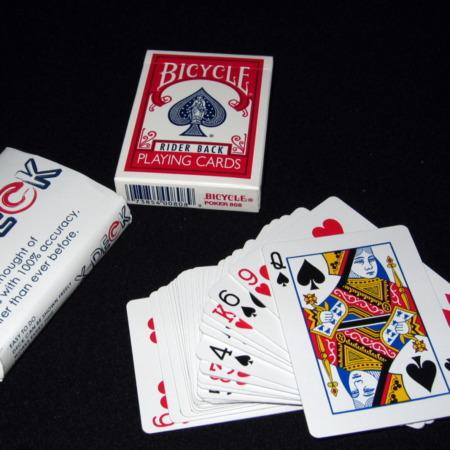 I really like this Deck!

Just when you think you've seen all the trick decks out there, along comes X-Deck! This is almost a total home run. It is a very clean way to show that you had predicted what card they would mentally think of from all 52 cards in the deck. They can think of any one and you show that you had marked it with an X and with an alternate back.

It is better and easier to use than the Brainwave Deck because you can freely show the backs and fronts of the deck. However, the only problem I have with it is that they have made the deck look pretty obviously prearranged by the choice of cards that you can see when you fan the deck. With a little thought and some simple calcuations I'm sure there is a better way. I'm going to play with a deck myself to see. Once you remove this slightly annoying limitation then you truly do have a great idea that is simpler, faster and cleaner than Brainwave and then something that you will just start using all over the place!
Click here for more information.