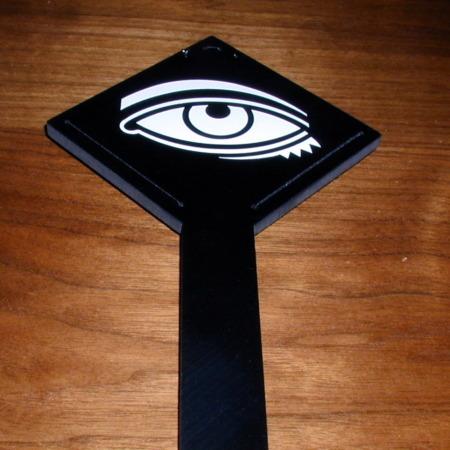 I love Attaboy, but this is not as convincing.

The inspiration for this effect comes from the old Jack Hughes effect: $link(1170,Attaboy). However, in my opinion it is not as convincing as Attaboy by quite a long margin. The device is made well enough in strong plastic and the art work for the eye is fine.

The idea of taking cards from one side and replacing them on the other until a specator calls stop certainly leads to some interesting routines, one of which is detailed in the instructions. However, I don't think it looks that convincing – with Attaboy you have 12" or more between the two banks of cards, but with this the cards are right next to each other. Even if it looks like the cards are coming from one side and being replaced at the other – as it does – the cards are just too close to not rule out that you did "something".

In fact, I think you are better off doing $link(http://www.qualitymagicbooks.com/?nd=full&key=2079 target=_base,The Glide) and skipping using the Wink paddle altogether and you can achieve similar results. It is true that multiple cards can be forced easier using the Wink paddle. However, the more that the paddle is used the more the move arouses suspicion.
Click here for more information.