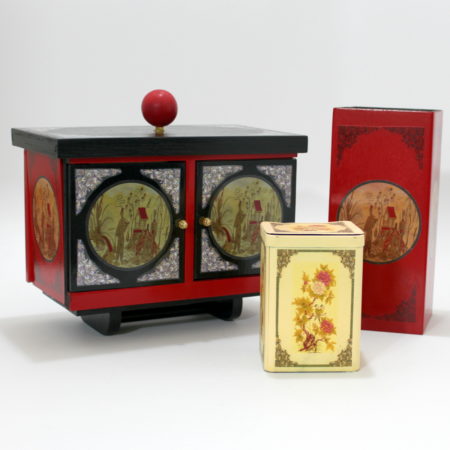 Amazing Die Box Effect!

This is the latest in the wonderful recreations of magic of olde from Joe Long and his Limited Editions Magic series. I have never even heard of the original and have also not seen a die box with anything but dice and cubes so this one was a real surprise.

In effect you show the tea chest to be empty by opening both doors at the front. Then you take the tea caddy and place it in the red tube. From here it quickly disappears and is found inside the chest by opening up the left hand door. Here you can go in to the familiar sliding routine as the caddy slides back and forth. Eventually the caddy vanishes from the chest. You then take the lid off and the chest "explodes" into a tray with 6 Sake cups and a full size Sake bottle, way bigger than the height of the chest. You then proceed to pour 6 drinks from the bottle and wish everyone good health!

A very visual and exciting climax to a more familiar die box type effect. This was made in a very limited edition of 12 pieces, so they are pretty hard to come by.

Highly Recommended for Magic Collectors everywhere!




Click here for more information.