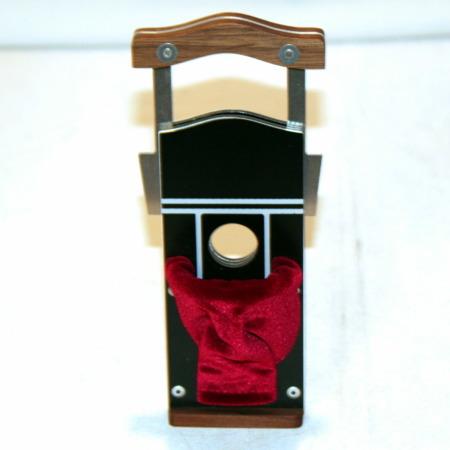 Mini Magic Marvel!

Chance Wolf keeps all the mini-magic guys very, very happy with this beautiful creation. This finger chopper really is a beauty to behold. Very solid construction, beautiful finish, perfect mechanism, and great value.

Chance should actually consider making a full-size one in exactly the same style as it really is a nice version of the French Arm Chopper. Of course he should only do this as long as it does not stop him making his next mini-magic item …

Now as wonderful as this chopper is – and it truly is – I was not sure how convincing an illusion it is. With the standard sized French Arm Chopper the illusion of the hand falling off is very convincing. However, with this mini version I was not so sure. After reading the instructions some more and a quick email to speedy response Chance I have my answer. As long as you do it quickly the illusion is perfect! Come on don't be shy, just give it a hard strike! The great thing about Chance's props is that they are designed to be handled in the real world, and this baby can certainly handle some rough handling!

A good online video, that Chance does so well, of the effect in action would also help. In fact, there are some details in the great routine that is included that suggests the illusion is very effective.

Either way, Chance has another winner on his hands. Keep them coming Wolf Man!
Click here for more information.