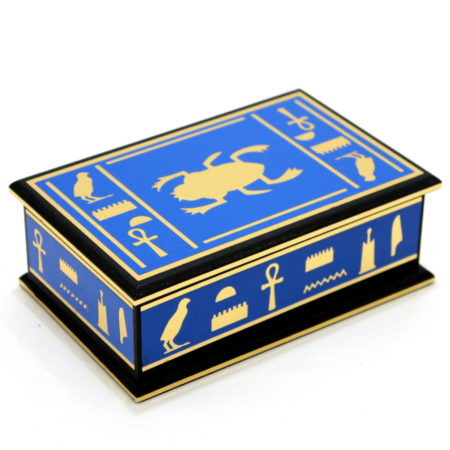 A very rare piece of micro magic sold in Germany over 20 years ago beautifully crafted by Thomas Pohle, whose limited edition magic is now highly sought after.
Performer displays a colorful and decorative chest with lid. The lid is removed to reveal a gold plate which covers an interior chamber. This plate is slid out to reveal two boxes mounted inside. One is red, the other green.
A spectator places any small object (their ring, a signed coin, handwritten note, etc) into either the red or green box. It's a free choice which one they select. Once this is done, the gold plate is placed back on along with the lid.
When the inner boxes are again uncovered, the box containing the borrowed object is found to be empty! The other box is opened, and the object is found to have mysteriously traveled from one box to the other! The spectator herself opens the
boxes!
A clever effect and a beautiful piece for display.
The amazing magic and craftsmanship of Thomas Pohle has long been unsung, and thanks to some initial exposure from Joe Long (who wrote the description) I am trying to help Thomas become a household name in the USA and beyond. Thomas certainly deserves it after creating beautiful, clever magic for over thirty years!
Click here for more information.