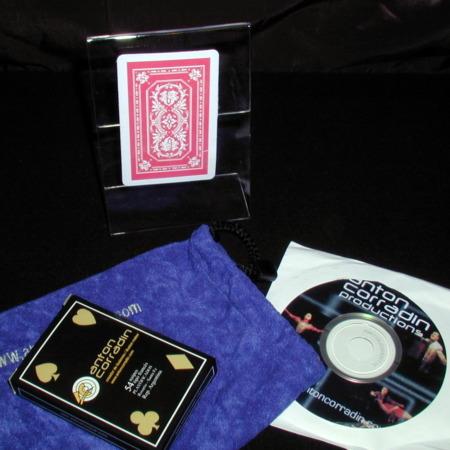 Low tech, Low quality, but effect still looks good.

Ok so this is not going to rate as your highest quality effect or as a great new technical marvel or as anything too original – and the deck of cards that comes with the trick should be thrown in the trash as soon as you get them. They are the worst quality I have ever seen!

However, the effect is actually very strong and I think if you do buy this you really could have a fooler on your hands. It is easy to do with no complex sleights or reset. To me it is very like $link(1054,John Cornelius' Instant Pro) replacing the wallet with the picture frame and without the stronger gags. The routine tries to add some fun into the mix, but I think Instant Pro is stronger – and probably easier to perform too.

Basically the effect is as follows: you remove a clear picture frame from a little blue drawstring bag. You then place a card, back showing facing the audience into the frame. They then choose a card (and can sign it) and you cover up the frame with the bag. At a snap of the fingers when you pull away the bag and turnaround the frame their card is seen in the frame. Complete with their signature!
Click here for more information.