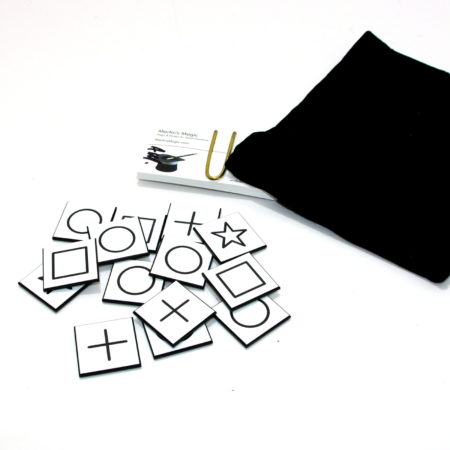 I love this routine from the great inventive team: Larry Becker and Ray Piatt. The props are perfect and the three phase routine is definitely a fooler! You start by having the spectator sign your business card and you make a prediction on the face and cover it. Then you show a bag full of ESP tiles that have symbols on both sides and they are all different. You ask the spectator to reach in and pull out any tile (no force). Then you reveal your prediction on the signed business card and it matches.
Now you make a second prediction and have the spectator tip out all of the tiles and stack them matching symbols next to each other. They end up with a tile on top and a tile on the bottom that match your prediction. And then you can do it again with a different result. Very clean and almost self-working.
Click here for more information.