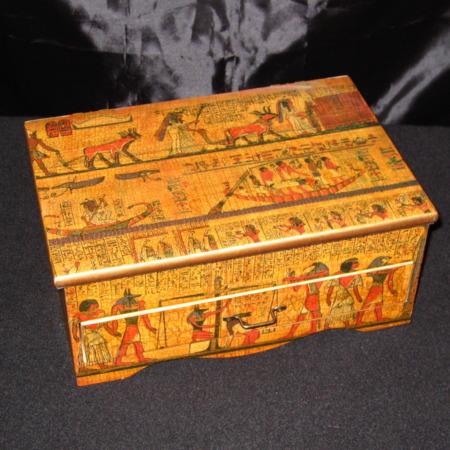 I just Love this Effect!

This is the second version of $link(http://www.qualitymagicbooks.com/?nd=full&key=1686 target=_blank,T.A. Water's Box Office) that I have assembled from off the shelf parts – the other version was a $link(1444,bit more impressive), but in fact this one works better. It is just a very clever idea and whenever I find a box that will work I try and find some pieces to use for it.

I was particularly happy with this set because the box is perfectly designed for the effect.

The effect is well known by now I'm sure but goes as follows: you open the lid on the Pharaoh Keepsake box and inside are 5 different Egyptian symbols. You turn around and ask the spectator to choose any symbol, place it in their pocket and close the lid so that you cannot see it. You then open up the drawer of the box and find that there is just one symbol as a prediction in the box – naturally it matches their selection.
Click here for more information.