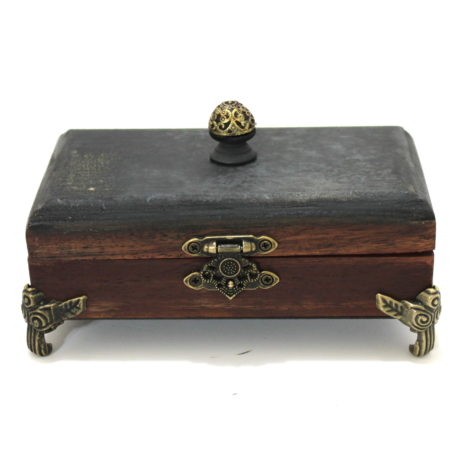 What a wonderful and unique switching device from Dan Baines. The flap on my one was fairly light which works for you and against you. If you want to dislodge it without using the knob you can, but you have to be a little careful when you put it down. I mentioned this to Dan and within a couple of weeks he sent me a whole new flap which was half the weight so I could decide which one I wanted to use. Having both options is great. I must say how impressed I am with Dan Baines and his company Lebanon Circle Prop & Illusion Design – he certainly went out of his way to make me happy.
Apart from looking the part and being a size that can handle regular playing cards, tarot cards, billets, even dollar bills if you fold them in half this unit has the extra feature that once the transformation has taken place the box can be tipped upside down without anything falling out.
It is a very useful utility device and one you will surely find many uses for. Contact Dan today and create your custom designed box just for you!
Click here for more information.