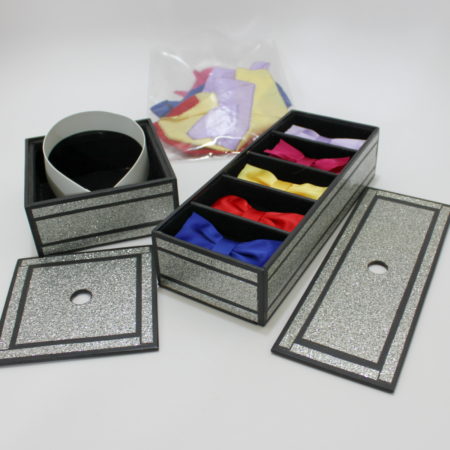 Another Great Harries Effect

Harries of Sweden are one of the last good manufacturers of parlor and stage magic, and this item is one of their best. Nicely made and colorful.

An empty collar is shown in an otherwise empty box and the lid is placed on top and left in full view. Five bow-ties are shown in a larger display case and the lid is placed on top also. A silk is apparently freely chosen from the clear bag and that chosen color bow-tie disappears from the display case and appears pinned to the collar in the previously shown empty box.

For repeat performances there is a different color tie that can be used. It comes with all silks and ties, and everything that is needed to perform this right out of the box. It really is a lovely outfit and very easy to perform this miracle right in front of their eyes.

Click here for more information.